Before August 2018, it was nearly impossible to get verified on Instagram. In fact, the verification badge was reserved for a select few "public figures, celebrities, and brands."
Basically, you had to have a large following and a contact at Instagram who could set you up with a blue tick.
But that's no longer the case. Now anyone can apply for Instagram verification.
Read on to learn how to get the coveted verified badge on your profile.

Bonus: Download a free checklist that reveals the exact steps an adventure photographer used to grow from 0 to 110,000 followers on Instagram with no budget and no expensive gear.
How to get verified on Instagram
Applying only takes a few moments.
Open the Instagram app and navigate to Settings
Scroll down and tap Request Verification
Type in your account name, full name, and a photo of your ID if you're a person, or a legal or business ID if you have an Instagram for Business account
Hit Send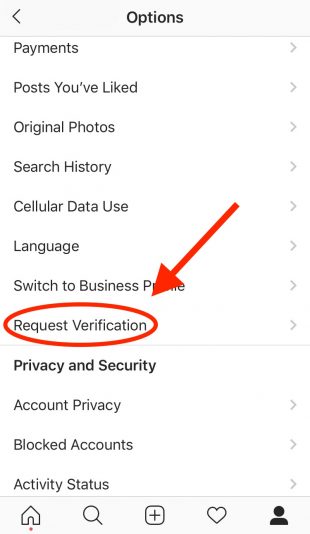 Simple enough, right?
After reviewing your application, you'll be notified whether your request is approved or denied. But don't expect a response right away. There's not a specified timeline for how long the process takes.
So, should you apply? Let's answer some frequently asked questions.
"Is Instagram verification really all that great?"
Being verified means your account has been confirmed as authentic by Instagram. This helps people avoid imposters and easily find the brands or public figures they want to follow. Verified accounts have a little blue check mark beside their name.

"Will my application be approved?"
This seal of approval from Instagram is in high demand, which is precisely why they won't verify any and every account. If everyone could get verified on Instagram, the designation would lose its value.
So, it depends on whether your account meets all the qualifications…
"Okay, so what do I need to get verified by Instagram?"
First, you must also follow Instagram's Terms of Service and Community Guidelines.
And then your account must also be…
Authentic. Obviously you have to be who you say you are. That is, a real person, registered business, or brand.
Unique. Only one account per person or business may be verified, with exceptions of language-specific accounts. Instagram says it does not verify general interest accounts like meme roundups.
Public. If you're looking to get verified, surely your account is already viewable to anyone.
Notable. Again, Instagram stresses that verified accounts must "represent a well-known, highly searched for person, brand, or entity." So, a public figure, celebrity, or global brand. When it reviews a verification application, Instagram looks at whether the user is featured in multiple news sources. Paid or promotional content doesn't count.
Bonus: Download a free checklist that reveals the exact steps an adventure photographer used to grow from 0 to 110,000 followers on Instagram with no budget and no expensive gear.
Get the free checklist right now!
"What if I can't get verified by Instagram?"
If you can't get verified, there are other ways to convey the authenticity of your Instagram account.
Promote your Instagram account on your website and other social profiles
Not only will this help more people find you on Instagram, it will clear up any confusion about which accounts are your official ones.
Have a crystal-clear idea of your audience, pay attention to the type of content getting featured on your own Explore tab, and post content that encourages engagement.
Do you archive your posts? Use UTM codes in your Stories? Your audience will feel confident about interacting with your brand on Instagram if you're actively using the newest features to give them relevant, exciting content.
Ultimately, you have to have a successful Instagram strategy to get verified. Do what it takes to grow and engage your audience authentically and organically.
Save time managing your Instagram presence using Hootsuite. From a single dashboard you can schedule and publish photos directly to Instagram, engage the audience, measure performance, and run all your other social media profiles. Try it free today.
The post Here's How to Get Verified on Instagram (Yes, Anyone Can Apply Now) appeared first on Hootsuite Social Media Management.