So…. you want to start advertising on LinkedIn? You've probably been thinking about it for a while, years even, right? Or maybe, you're already using pay-per-click techniques on Facebook, Twitter, or Google. And now you're ready to do the same with LinkedIn.
Either way, we've got ya covered.
Attract more leads and prospects on the world's largest business stage. This makes good business dollars-and-sense. After reading this post, you'll be a LinkedIn monster.
You'll gain expertise to use LinkedIn ads to get more appointments, with more leads for your biz. From setting up your ads to tweaking and improving them over time.
Bonus: Download a free guide to discover four time-saving tools to help you grow your LinkedIn network faster. Includes one tool that lets you schedule a week's worth of LinkedIn updates in just three minutes.
Before all that, let's understand…
Why use LinkedIn ads?
Because everyone is there.
Okay, not everyone. Just 560 million of them.
Them being, business professionals—a serious bunch who know what they want. Forty percent of them have conversations everyday on LinkedIn.
Conversations you want to be in on, right?
LinkedIn has refined their tools over time. Creating a more interesting and useful experience than ever. A great place for you, Mr-or-Miss marketer, to get your message 'out there'. Count thy ways:
Slicker desktop app
Better mobile apps
Show and share rich content, including video
Get less spam
Premium apps for the serious business-minded
All this making LinkedIn a place where business people hang out.
Your people, too. Guaranteed.
Don't believe me? Fine. See for yourself.
40 million decision-makers
10 million opinion leaders
61 million senior-level influencers
You get the idea
All of them are eager and able to hear your message. And act on it.
That is, if you're in the game.
If not, you're handing business over to the other guys.
Hey, want to be high-stakes player on LinkedIn?
Of course you do. Check out these demographics and statistics.
You might also be wondering…
"Will LinkedIn ads work for me?"
Try it and see. Create an ad to see the audience you'll reach and attract. Then decide.
As for costs, you've got options. Spend a daily amount, as little as $2 per day, for say, a short-term, one- or two-month campaign. Or, pay based on performance with pay-per-click or pay-per-impression ads.
These are a few of the benefits of adding LinkedIn advertising to your marketing strategy.
Let's learn about the types of ads in the LinkedIn toolbox.
Types of LinkedIn ads
Want to target your message to executives? Influencers? Job seekers?
Getting clear on the who will help you determine the what.
Each type of LinkedIn ad has its own benefits and approaches. They come in two flavors: Self-Service ads and LinkedIn Advertising Partner Solutions.
Let's have a look…
Self-service ads
Like the name implies, you can start today, all on your own. Dig in with Campaign Manager, a snappy tool to do it all.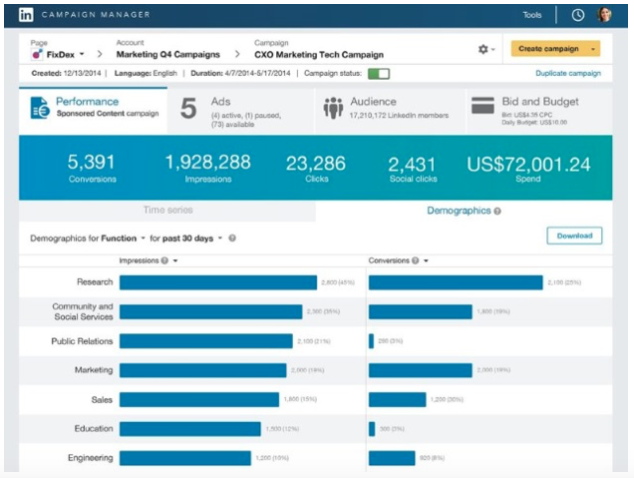 Schedule campaigns, target your audience, and see who's clicking on your ads. This takes time and effort, like any work worth doing. But, it's easy to follow and a great way to dip your marketing toes into LinkedIn advertising.
❱ Sponsored content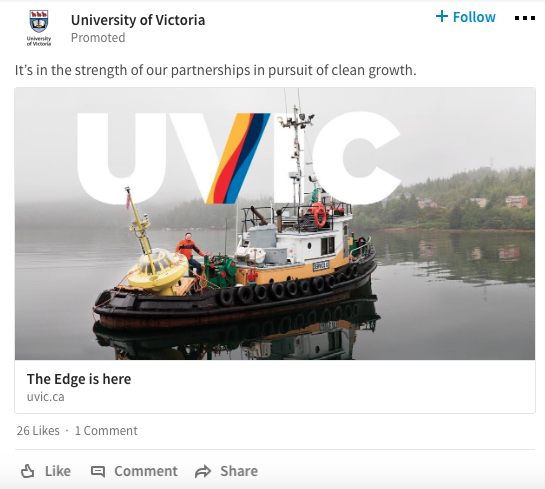 What is it?
A way to promote existing content already on your Company Page.
Share your posts with a targeted audience. Broadcast company news, upcoming promotions, useful articles, SlideShare presentations, and Vimeo & YouTube videos. These ads appear on the home page feed- for desktop, mobile and tablet.
Got a one-day-sale coming up? Or a video of a recent charity event?
Perfect, spread that cheer to a wider net, showing how your company is helping others.
Why use it?
Increase awareness for your brand
Entice users to click though to a new landing page
Attract more followers for your company
Get more impressions and clicks on desktop, tablet and mobile
Use with LinkedIn's lead generation forms
View the specs and guidelines to learn more.
❱ LinkedIn text ads
What is it?
A way to drive traffic to your LinkedIn Company Page or website.
Similar to Google or Bing search ads. Create and feature a killer headline, description, and image. And…
Create variations of campaigns to see what works best.
For instance, clone an ad, then change the headline. Compare the results for each of these ads. Isolated tweaks will help you improve your ads over time.
These ads run only on desktop, showing up on the right rail of the news feed. They're a great way to grab the attention of a busy professional browsing LinkedIn.
Why use it?
Fast and easy to get started
Set your own budget
Choose your audience with laser sharp B2B filters
Track conversions
Choose your model, between cost-per-click or cost-per-thousand impressions
View the specs and guidelines to learn more.
❱ Sponsored InMail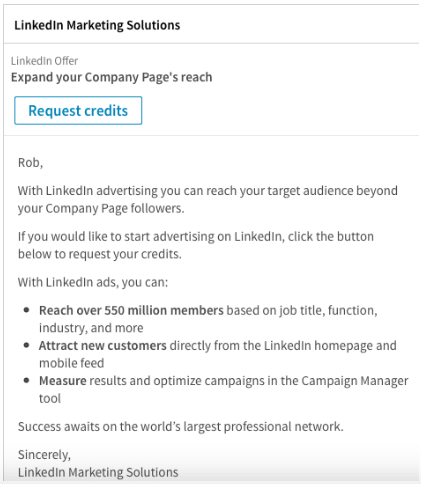 What is it?
A way to deliver personalized messages to users' LinkedIn inboxes.
People develop trust when they feel you're talking directly to them.
They'll be more likely to hit the buy, click, or call link, too.
Sponsored InMail will get to users, no matter what devices they're using. Messages have a custom greeting, call-to-action button, body text. You can also add a link in the message body. Messages will appear in their inbox just like they do for regular messages. Pay for only the messages you send.
Why use it?
Attract more leads
Have more conversations, better, too
Send personalized invites to webinars and other events
Target promotions to the right audience
Promote content, like downloadable ebooks and white papers
Need I say it again? Yup, so here goes…
View the specs and guidelines to learn more.
Moving right along…
❱ Video ads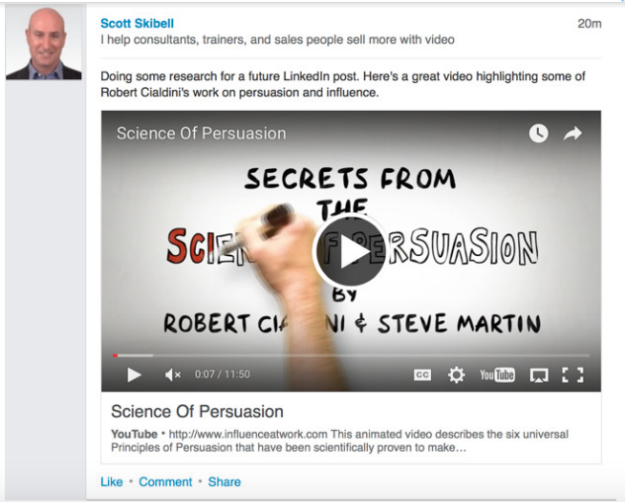 What is it?
Okay, are you really going to make me describe this? Fine…
A way to use sight, sound, and motion to tell more interesting stories for your LinkedIn feed.
The more senses you include, the more ways people will relate to your message.
Hmmm, what next for smell, touch and taste?
For marketers, video has skyrocketed for consumer brands. B2B is quickly catching up. With LinkedIn as the numero uno business-to-business platform, time to get on this v-train.
Why use it?
Differentiate and increase awareness of your brand
Target specific segments, by job title, seniority, company name, industry, skills, and more
Reach a wide network of decision makers
Works great with lead generation forms
Show how cool you really are. Maybe a new career awaits you.
No specs or guidelines from LinkedIn yet. It's a brave new world.
❱ LinkedIn Display Ads
What is it?
A way to target an exact audience in a uncluttered environment.
Display Ads is LinkedIn's programmatic advertising solution. You can buy ads through your favorite advertising platform, or a private or public auction.
They're great for using a variety of media, including text, audio, video, and images.
Also, this is an excellent option to be seen in a highly-specified audience, early in your buying cycle.
Why use it?
To strengthen your brand, at scale
Reach more professionals, decision-makers, and influencers
Create more interactive, eye-catching ads
Be seen more on high-traffic, LinkedIn pages
Here's the specs and guidelines to learn more.
❱ Dynamic ads
What is it?
A way to show personalized ads, dynamically generated based your audience's activity.
Say LinkedIn knows someone is searching for a job in your industry. Target them at the right time with the right messages.
They're great for building relationships and delivering personalized messages to the most influential people.
Too, drive more traffic to a landing or your Company page. Members can send you their name and email address from the dynamic ad, without typing a thing. Then, your content will download to their desktop. LinkedIn serves only two visual ads on a page at a time. Quite the noise-and-clutter-free solution.
Bonus: Download a free guide to discover four time-saving tools to help you grow your LinkedIn network faster. Includes one tool that lets you schedule a week's worth of LinkedIn updates in just three minutes.
Why use it?
Get people to see a new landing page
Get more responses for your personalized messages
Choose who you want to see these messages
Generate customized call-to-actions
Increase followers for your Company Page
See the specs and guidelines to learn more.
Linkedin Marketing Partner Ads
Okay, we've learned about the types of ads to do yourself, using Campaign Manager. Cool, right?
But maybe you need help from an expert? Or, you want to outsource your LinkedIn advertising.
Find and work with a LinkedIn partner. Each partner offers different tools, like ad technology, content creation, and media buying. This will help you run campaigns with an even greater ROI.
By the way… Hootsuite is a LinkedIn marketing partner.
We're experts. Experts in social media, experts on LinkedIn. We combine the two to help you deeply engage with your audience- oh yeah. Contact us today to learn more.
Why work with a LinkedIn ad partner?
My, you ask so many good questions. Some answers for you:
Work with experts, versus starting from scratch
Scale your ad campaigns…
Gain deep insights on them, too
Want even more insights and answers? See a bunch here.
We've covered a lot to this point. Time now to roll up your marketing sleeves and get to it.
So then…
How to advertise on LinkedIn: step-by-step
Ready, set…
Wait, wait.
To advertise on LinkedIn, you need an account. Some golden tips here. And, a Company Page, too. Because leads and prospects will check you out. You want to look just right, right? If you haven't already, set all that up first. We'll wait…
Okay, now… ready, set, go.
How to advertise using self-service ads
Getting started is easy. We'll show you how in six steps. We've abbreviated this to get you going. If needed, see more details here on LinkedIn's helper page.
Step 1: Set up a Campaign Manager account
Which you can do here. Just takes a few minutes. Really. Create multiple accounts, too. Go crazy.
This is where you will manage and optimize your advertising on LinkedIn. With features to see see how your ads are performing. Such as:
Dynamic visual reporting
See how your Sponsored Content campaigns are performing
View demographics of people clicking on your ads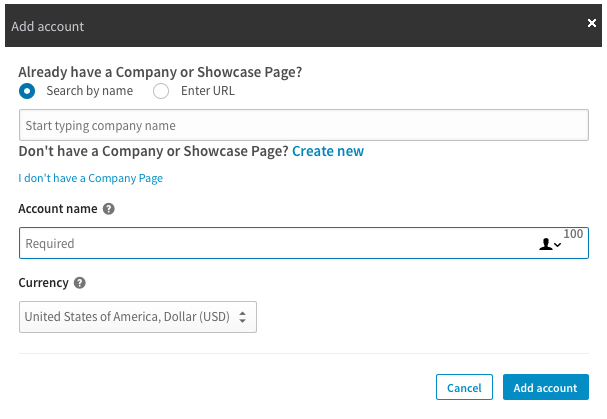 Step 2: Choose your ad type
Select the type of ad you want to create. Create an entire campaign using all three formats for maximum impact and reach.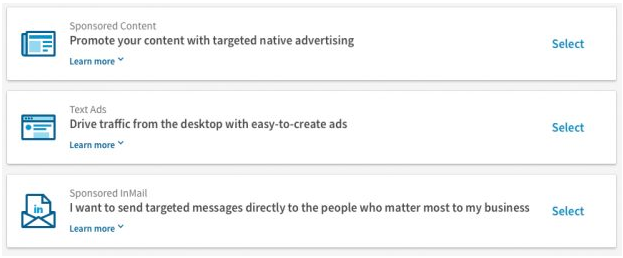 Next…
Create a campaign name
Choose your target audience language
Select a call-to-action option (for Sponsored Content ads)

Step 3: Create your ad
Campaign Manager walks you through creating ads. With help for ad specs and tips along the way. For example, some options for creating a Text Ad:

Step 4: Target your ad
Specify options for targeting your ad to the right people. Such as, location, company names, school names, job functions, skills, and other filters. Save your choices as a template to speed things up later, when creating other campaigns.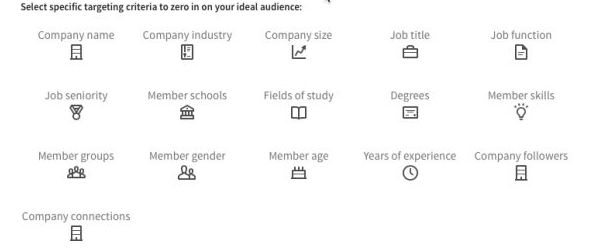 Step 5: Set your budget. And schedule, too.
For parting with your money, you've got options:
Cost per click (CPC)
Cost per impression (CPM) for the messages in a user's view, or…
Cost per send, for Sponsored InMail ads (pay only for the messages received)
For CPC and CPM, set a daily spend limit and a bid price. This states the max you'll pay per click or impression. Choose a start and finish date for your campaign, too.
Want to know who's interacting with your Sponsored Content and Text Ads? And how? Add conversion tracking. Track specific actions to measure and improve your ROI. Such as: sign-ups, installs, downloads, and purchases.
If you're going to pay for stuff, nice to know how it's performing. LinkedIn makes this easy.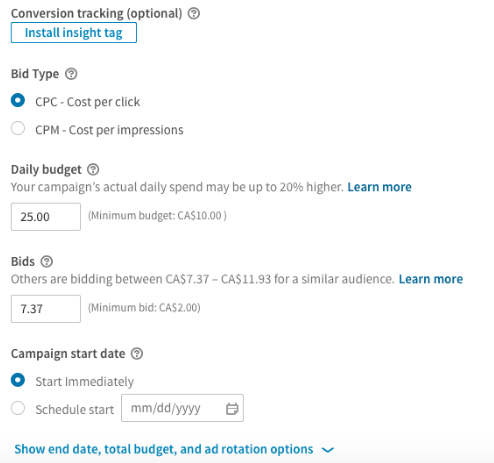 Step 6: Measure and refine your LinkedIn ads
Campaign Manager helps you measure and optimize your campaigns. Metrics include impressions, clicks, and spend. And, measure "social actions," seeing how members interact with your content.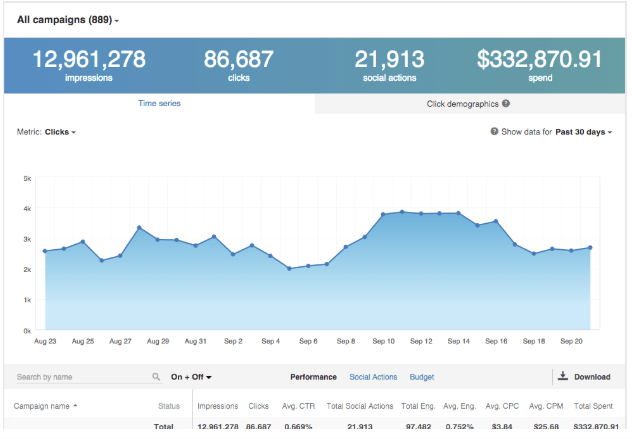 That's it. You're now ready to create, run, and optimize ads on LinkedIn.
Again, learn more details here, if needed.
And for those other types of ads…
…follow these links to get started with:
LinkedIn ads best practices
Creating and running LinkedIn ads is one thing. Making them work well for you is another.
Check out these quick tips to help you do your best:
Sponsored Content
Use custom or at least, non-stock-looking images
Add URL tracking codes to measure site visits or conversions
Keep the copy under 150 characters
Stay focused on the people interacting with you the most
Learn 7 more tips for getting people to click on your ads
Text Ad
Do use images to attract eyeballs
Include a strong, clear, and specific call to action
Write a headline worth reading
Write from the reader's perspective, not yours. Because it's about them, not you.
Learn 10 more writing tips from an expert
Sponsored InMail
Use the recipient's name, maybe twice, even
Keep it concise, under 1000 characters
State a clear and specific action you want them to take next
Write a subject line, stating what problem you're solving
General
Write from the reader's perspective. Because… people don't care about what you do. They only care about what they can get from what you do.
Use relevant images. On a budget? See 20 free sites for great photos.
Write personalized content by segmenting your audience. For example, by job title, function, industry, company size, and seniority. Tailor your message accordingly.
Test frequently using variations of your ads. See what works best. Do more of those.
Budget and bid wisely. Consider maxing out your CPC for direct response strategy. For CPM, you'll pay your max bid for per 1,000 impressions. More tips here.
Measure to improve your ROI. Campaign Manager tracks performance by monitoring impressions, clicks, costs, and more. Use these metrics to maximize your ROI.
That's our guide to LinkedIn ads.
There's a load of pros needing what you offer. Millions of them.
Now go update your profile pic. Maybe put some gel in your hair, too. I'm just sayin'.
Save time and easily manage your brand's LinkedIn presence alongside all your other social media networks with Hootsuite. Try it free today.
The post The Complete Guide to LinkedIn Ads: How to Run a Successful Campaign appeared first on Hootsuite Social Media Management.